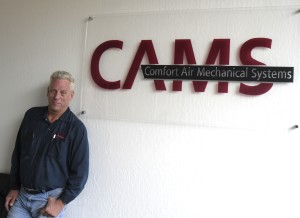 CAMS was started in 2007 by Rob Terry to service the Northern California commercial HVAC market. In assembling an experienced team of top notch mechanics and project managers, Rob has built CAMS into a mechanical contractor clients can trust to provide cost-effective and timely solutions for their HVAC projects.
We are independently owned, and because Rob still has a passion for what he does and the clients he serves, he's still as "hands on" as the day he started the company.
Our clients are almost all repeat and referral, and Rob and his team are happy to offer you the same level of service, cost savings and performance for all your commercial HVAC needs.
If you have questions about how we could serve you on your next project please call the office at (510) 217-8980 or email us at info@cams-sf.com